History
Historical development of our company
On 14 January 1991 the metrological test centres of ORWO Filmfabrik Wolfen (formerly AGFA/ORWO) received initial accreditation according to DIN EN 45001 as calibration centres of the German Calibration Service (DKD) for mass, electricity and pressure measuring quantities from the Physikalisch-Technische Bundesanstalt (PTB). The calibration laboratory received the DAR registration number: DKD-K-06901.
Our calibration laboratory has more than 40 years of experience in measurement and testing as well as in the development and application of innovative metrological procedures. These procedures were developed at the Filmfabrik Wolfen metrological test centres, which were responsible for different physical and analytical measuring quantities to ensure metrological accuracy in film and fibre production. The ORWO Filmfabrik Wolfen metrological test centres had calibration rights until 1991.
Metrological challenges in the research and production of films and fibres necessitated the monitoring of processes within the tightest tolerances and the development of metrological test centres for a wide variety of measuring quantities.
Based on this knowledge and experience, new calibration laboratories were set up beginning in 1991 and preparations were made for accreditation.
The specialist experts at PTB were important partners in this regard.
On 14 January 1991, the first DKD laboratory for mass in the Federal Republic of Germany was successfully accredited.
Three measuring quantities were accredited in total in 1991: mass, pressure and electricity.
In the following years, numerous expansions and new accreditations were carried out with the goal of extended measuring ranges, reduced measurement uncertainties and new measuring quantities.
Today we have developed into a metrology and calibration centre with 14 accredited measuring quantities according to ISO/IEC 17025 .
| | |
| --- | --- |
| Measuring quantity | Year of initial or extended accreditation |
| Electricity | 1991 |
| Pressure | 1991 |
| Mass / solid density | 1991 |
| Balances | 1994 |
| Temperature | 1997 |
| Length / gauge blocks | 1997 |
| Humidity | 1999 |
| Length / dimensional measuring equipment | 2000 |
| Torque | 2005 |
| Viscosity | 1993 |
| pH | 1999 |
| Liquid density / hydrometer | 1999 / 2014 |
| Electrolytic conductivity | 2000 |
| Volume | 2005 |
March 1994:
WECC re-evaluation of the DKD in the DKD-K-06901 calibration laboratory for electrical measurements in Wolfen with positive results, documented in the "Report on the WECC re-evaluation of DKD, March 14 – 18, 1994".
July 1995:
The Filmfabrik Wolfen GmbH transfers sponsorship of the D-K-06901 calibration laboratory to the newly founded ZMK GmbH Sachsen-Anhalt.
September 1997:
Certification of an integrated quality management system according to DIN EN ISO 9001 and DIN EN 45001 by the German Association for the Certification of Management Systems (DQS) under the supervision of the DKD as accreditation body at the Physikalisch-Technische Bundesanstalt (PTB).
The previous requirements for the standards were implemented in our quality assurance system and effectiveness was increased through the combination of certification and accreditation.
June 2002:
With the introduction of DIN EN ISO/IEC 17025,all quality documents were converted to the new standard.
This was followed by re-accreditation by the accreditation body of the German Calibration Service at the Physikalisch-Technische Bundesanstalt (PTB).
July 2005:
Performance of a witness audit by the German Calibration Service in the laboratories of the ZMK GmbH with positive results
2007 – 2009
New construction of a laboratory building with a focus on "analytical metrics".
May 2012:
Metrological expertise was used to prepare for and receive accreditation as a provider of proficiency testing according to ISO/IEC 17043. ZMK GmbH was able to successfully offer and carry out comparison measurements and key comparisons for selected accredited calibration procedures on this basis.
February 2015:
Based on decades of experience in the field of analytical measuring quantities, pH and electrolytic conductivity, accreditation as a provider of certified reference materials in accordance with ISO/IEC 17025 with ISO Guide 34 was an important next step.
November 2016:
The integrated quality management system was converted to the requirements of DIN EN ISO 9001:2015 and certified by the DQS.
2016 – 2017
New construction of a training centre
2017
Complete re-accreditation of the calibration laboratory according to ISO/IEC 17025 with extensions as well as accreditation as provider of proviciency testing according to ISO/IEC 17043.
2018
Preparation to convert the integrated QM system to the new requirements of ISO/IEC 17025:2017 and ISO/IEC 17034:2016
New and extended accreditations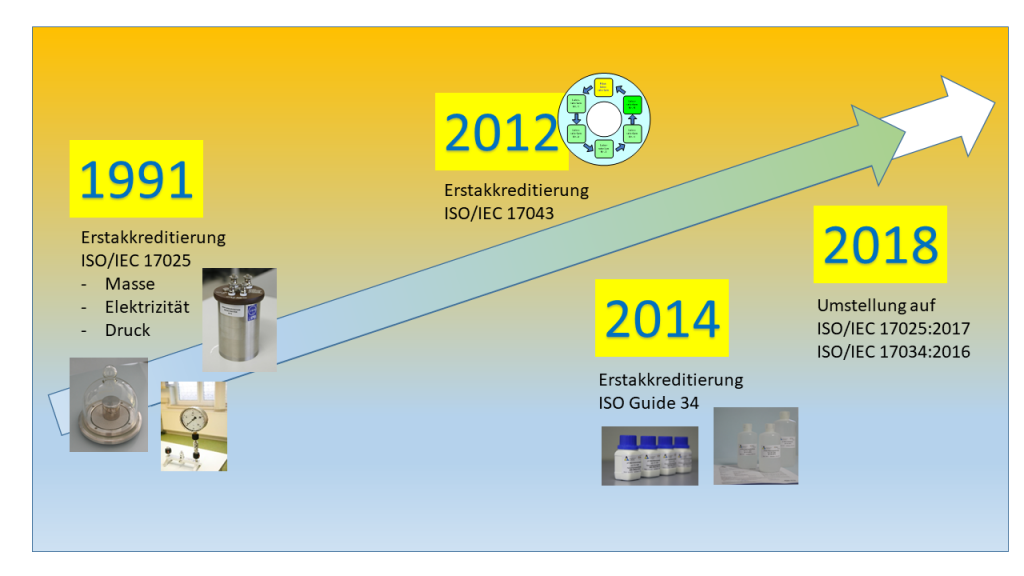 ERDF projects from 2016:

1
"Control" trade fair in Stuttgart – international fair for quality assurance
Period: 07 – 10 May 2019
Period: 24 – 27 April 2018
Period: 09 – 12 May 2017
2
"Analytica" trade fair in Munich
Period: 10 – 13 April 2018
Period: 10 – 13 May 2016
3
Consulting programme for companies
Period: 24/11/2017 – 23/11/2018
4
Calibration facility for the electrolytic conductivity
after a primary process
Period: 21 August 2015 – 31 December 2016
5
Modelling in measurement technology using the example of pH measurements, including their metrological traceability

Period: 01 October 2019 – 28 February 2021